SOUTH-WEST UNIVERSITY "Neofit Rilski"
INSTITUTE  OF  MATHEMATICS  AND  INFORMATICS,
Bulgarian Academy of Sciences

---
International Programming Contest
April 19, 2003, Blagoevgrad, Bulgaria
Sponsored by 
---
Organizers:
The Faculty of Mathematics and Natural Sciences, South-West University "Neofit Rilski" and Institute of Mathematics and Informatics, Bulgarian Academy of Sciences will organize International Programming Contest for university students. The contest can be considered as a practice (preparation) to the next ACM SouthEastern European Regional Contest.
 
Problems:
---
Contest Schedule:
Friday April 18th: Arrival and Check-in
         18:00-19:00  Practice Session
Saturday April 19th: The contest.
         10:00 - 15:00 CONTEST
         16:00              Award Ceremony

---

About contests for university students.

ACM International Collegiate Programming Contest
organized by Association for Computing  Machinery (ACM), sponsored by IBM

Rules for ACM contests.
Basic rules:

  Each team consists of three contestants.

  Each team will use a single computer.

  The programming language are Java, C++, C, and Pascal.

  Contestants may bring resource materials such as books, manuals, and program listings. Contestants may not  bring any machine readable versions of software or data.

  Solutions to problems submitted for judging are called runs. Each run is judged as accepted or rejected by a  judge, and the team is notified of the results.

  Teams are ranked according to the most problems solved.

---
Deadlines:
The coaches may offer problems for the contest. Send e-mail to  nkirov@math.bas.bg before March 15, 2003.

Registration must be complete by April 11, 2003. It includes the participant names and  application for accommodation in Blagoevgrad.
---

List of invited universities:

  All bulgarian universities including:
  American University in Bulgaria - Blagoevgrad
  New Bulgarian University - Sofia
  Sofia University "St. Kliment Ohridski"

  Aristotle University of Thessaloniki
  Institute of Informatics PMF Skopje
  Ss. Cyril and Methodious University - Skopje
  Technical University of Crete
  University of Nis
---
Accommodation:
Hotel "Alen Mak",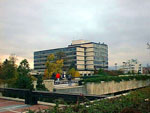 special prize 18 USD with breakfast (additional discount for students).
NEW: 11 euro for a bed in double room and 16 euro for single room.
Contest place:
The building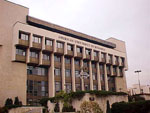 of  American University in Bulgaria, placed at the center of  the town, third floor.

---

All connections:
| | | | |
| --- | --- | --- | --- |
| Slavcho Strakov | shtrakov@aix.swu.bg | 359 87 863534 | |
| Nikolay Kirov  | nkirov@math.bas.bg | 359 98 447821 | |
| Dimitar Kovachev | dkovach@aix.swu.bg | 359 98 330533  | |
| Irena Atanasova | irenatm@aix.swu.bg | | |
| Hristina Kovacheva | pmf@aix.swu.bg | 359 73 889 131 | |
---

All software:
 Borland C++ 3.1, DJGPP 2.03, Dev-C++ 5.0 beta 8 (4.9.8.0), MS Visual C++ 6.0.
 Borland Pascal 7.0 and Free Pascal Compiler 1.0.6 .